What are the financial needs of VideoLAN?
Buy hardware for developing and testing purposes (DVDs, satellite cards and antenna, MPEG encoding cards,...)
Maintain the servers and hardware to run VideoLAN services.
Promote the project by organizing or participating in events (FOSDEM, Linux Expo Paris, ...)
What is the legal structure of VideoLAN?
VideoLAN is a non-profit organization, under French law. VideoLAN has its own bank account and is responsible for running and maintaining the VideoLAN servers.
Donate to VideoLAN via PayPal
You can donate money to the project through VideoLAN's PayPal account. There is no minimal amount for your donation.
If you click on one of the buttons below, you will be taken to the secure PayPal Web site.
You don't need to have a paypal account in order to make a donation.
If you encounter problems or if you have questions, you can contact us.
Donate to VideoLAN via Bank account
VIDEOLAN
IBAN: FR76 3000 3034 3000 1506 8853 588
BIC/SWIFT: SOGEFRPP
FRANCE

Donate to VideoLAN using Monero
Use the following address: 41gP4569HkeAJPcqSTizJYiMcMZVQekGvAAgAucaVCwaNsmbSrkcFY41w4FwgtD6N5XLV88xwrLjn87dpjUbtZJoDUuSeJF
Or the QR-Code: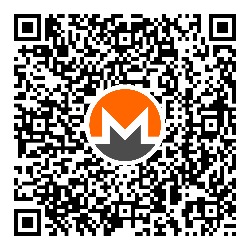 Donate to VideoLAN using Bitcoin
Use the following address: bc1q27wp4frlsckghy3vgdjg4rnlsxztxca0f2r4a7
Or the QR-Code: